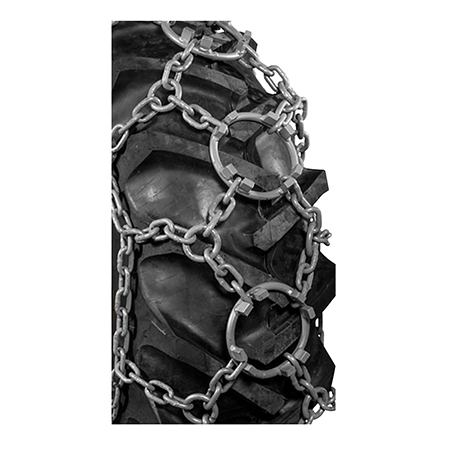 PANTER S 3+3
Economic and Reliable Solution to Forestry Tractors
Specially designed to increase traction of forestry tractors and prevent skidding in the mud.
Like the other PANTER models, this model has high resistant flash welded Traction Rings and Lugs welded to those rings to increase the strength and endurance of overall chain frame. The design of PANTER S provides excellent grip with uniform tension on the chain, protecting the tire and chain from uneven forces. It gives perfect traction for all type of terrains.
Ormancılarımızın özellikle traktör ile Orman içerisinde çamur ve kar ile mücadele edebilmesi için özel geliştirilmiş PANTER S modeli, rampalarda ve çamurlu zeminlerde Traktörün patinaja düşmesine engel olacak ve üstün tutuş elde etmesini sağlayacaktır.
Wear & Side Chains: 10 – 13 mm
Wear & Connection Rings: 12 mm
Flush Welded Traction Rings: 18 mm
Lugs: 15 mm thickness, 20 mm width, 30 mm height
Standard design is without tensioning chains but also available with tensioning system.